There are many types of minimalist wallets. All are designed to store as much content as possible while maintaining a slim profile that allows you to slip your wallet into your front pocket comfortably without leaving an ugly bulge. Slim wallet designers constantly try to balance between maintaining a slim profile and ease of use. Metal plate wallets for example are extremely thin but require quite a drastic change in your mindset on how you use your wallet. On the other hand, leather slim wallets are relatively thicker but they do function similarly to a traditional fat wallet. The Wally Bifold is a leather minimalist wallet from Distil Union and if you are new to slim wallets, we highly recommend it.
Firstly a minimalist wallet does not magically turn a fat wallet into a thin one. So in order to lose some of the girth, you will need to sort through your old wallet and take out the junk and unnecessary items that have accumulated in there like coins, keys, old receipts and even your favorite snapshot of your dog. Keep only your essential cards and as little cash as possible. The great thing about the Wally Bifold is that it is a little more forgiving when it comes to trimming down your necessities.
With its two card slots and the money clip at its center, you can stuff in about 12 cards plus 20 bills and yet have everything easily accessible when you need it. Most leather slim wallets do away with excessive card pockets. After all, the more pockets you have means that the more layers of leather that add to the overall bulk.
However, having less pockets means that less spaces to organize your cards. The Wally Bifold solves this problem by using pull tabs similar to those you see on children's pull tab picture books. A quick pull of the tab pops out all the cards stored in the card slot allowing you to quickly identify and accessing the card that you need.
Distil Union has thoughtfully used a different color pull tab ribbon for each card slot so that you can easily differentiate the two. We keep our frequently used cards in the pocket with the red tab while the less commonly used cards are kept in the black tab pocket. With the pull tabs design, you don't even have to open your wallet in order to access your cards.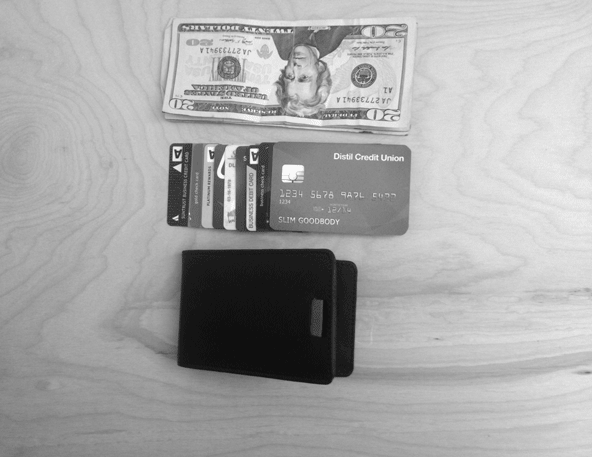 The money clip is the flippable spring type that is used by many other slim wallets. This is a popular design choice as it allows the user to keep a large number of bills without folding them up and thus are easily accessible. Not having to fold and unfold your bills every time you remove or insert cash into your wallet is a big time saver. However, do note that the Wally Bifold is 2.9″ (74mm) tall so you may want to make sure that your country's currency bills fits.
Last but not least, the Wally Bifold is made from high quality Argentinian leather that is soft and durable. The leather is available in either black, gray or brown. The Wally Bifold gets a high recommendation from us as it manages to delicately balance between wallet functionality and maintaining a slim profile. If you are switching from a standard leather wallet, you will easily get used to using this front pocket friendly slim wallet with its ingenious pull tab design.
Where to Buy Distil Union Wally Bifold
Distil Union Wally Bifold
Lighten your load with the front-pocket friendly Wally Bifold. This billfold-style wallet carries up to 12 cards, plus a metal money-clip inside for all the dollar bills you're lucky enough to have on ya.
Buy from Distil Union