Wabelt Co. is a new company that is releasing their very first wallet design known as the Banker Wallet. The Banker Wallet is a minimalist leather wallet that has a few interesting features that are rather unique to a slim wallet. Designed with functionality and detail in mind, Wabelt Co. wanted to come up with a wallet that allows the user to separate folded bills from cards. They also wanted to allow quick and easy access to stored cards. Last but not least, they wanted to add a touch of class by adding a custom lining to the wallet interior.
The end result is the Banker Wallet that combines a leather pouch with custom lining with a card storage sleeve that comes with a pull tab. The pouch is designed to hold bills folded in threes and being a simple pouch, it will also hold whatever you can fit in there including spare change and keys. It can hold up to a maximum of 20 folded bills but recommended maximum is 15 bills. Using a pouch design also means that it will fit any currency note. The tight closure system makes sure that the pouch does not accidentally pops open.
The card sleeve with pull tab fits a 5 cards which you can quickly access with a quick pull of the tab. If you have mostly carry cards instead of cash, you can use the pouch to store another 4 cards instead. Ideally, you would carry your most accessed cards in the sleeve while your less often used cards can be stored in the pouch.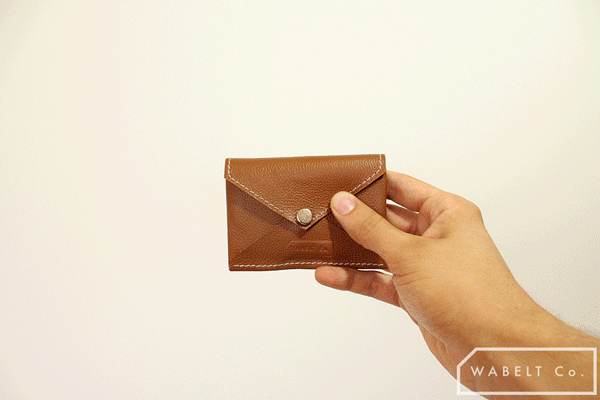 The Banker Wallet is currently not available yet but Wabelt Co. will soon be launching it on Indiegogo. However, if you head on over to the Wabelt Co. website right now and register yourself, you will be entitled to a whopping 55% discount plus Free Worldwide Shipping!
Where to Buy The Banker Wallet
The Banker Wallet
Be among the first to own a Banker Wallet from Wabelt Co. Register today and receive a 55% discount and free worldwide shipping on this great leather minimalist wallet.
Buy from Wabelt Co.