A wallet case for a phone is a great way to reduce the bulk in your pocket by combining both a wallet and a phone. Now instead of carrying a fat wallet in your back pocket and your phone in your front pocket, with the Taken Leather Wallet Case for iPhone 6 (4.7″) and Samsung Galaxy S6, you can have both in a slim package that fits nicely into your front pocket.
We were recently presented with both the iPhone 6 and Samsung Galaxy S6 of the Taken Leather Wallet Case for a hands-on review. Both versions of the wallet case are very similar but the Samsung version is slightly larger and thicker as well but this is to be expected as the Samsung Galaxy S6 is a larger phone with a bigger screen compared to the iPhone 6.
These are high quality cases made from Litchi grain oil leather, with nice stitching that accentuates the overall design. The front cover employs the use of good quality epoxy insulation board to provide protection for your phone against bumps and even drops. The leather case protects your phone from water splashes, dust and scratches.
The case uses a magnetic buckle that holds the front cover close. This keeps both wallet content from falling out and also protects the phone's display in case of a fall by holding the cover shut. The phones sit snugly in their respective cases and all buttons and port are accessible.
There are 3 slots on the back of the front cover. 2 horizontal card slots plus one vertical slot for storing cash. While it is a little tight, it is possible to store at least 2 cards in each of the card slots. The cash slot can store single folded bills or for storing another 2 to 3 cards.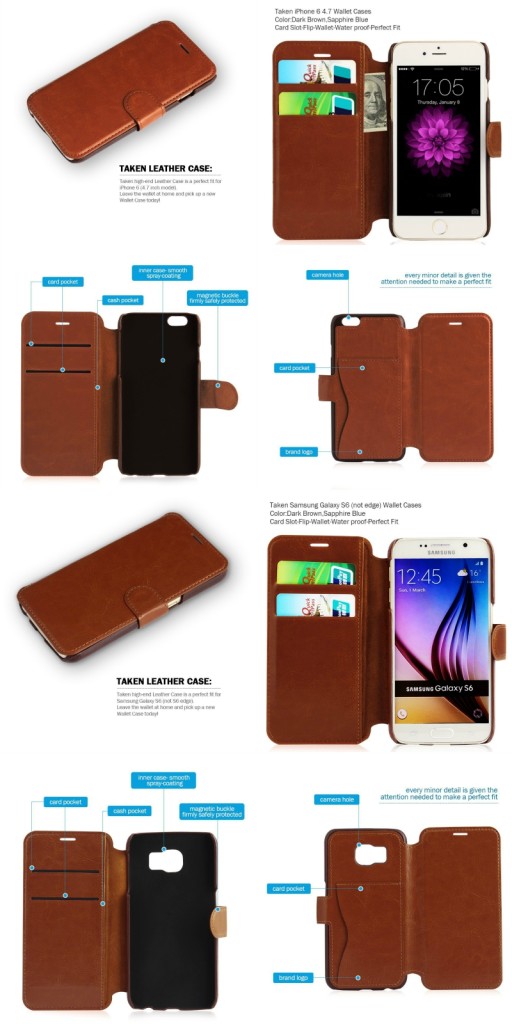 At the back of the case is another vertical card slot. This slot is a lot tighter and we recommend just keeping one card and make that your most often used card. This external pocket also makes it possible to use one of your cards without opening your wallet. Although it is just a simple design feature, it lets the Taken Leather Wallet Case differentiate itself from most other wallet cases out there. There are also cases out there that have more card slots on the inside but adding slots also adds to the overall thickness.
The Taken Leather Wallet Case for the iPhone 6 and Samsung Galaxy S6 comes in both Brown and a dark shade of blue referred to as Sapphire Blue. With a 2 year warranty and a 30 day, no risk replacement, the Taken Leather Wallet Case is worth checking out.
Where to Buy Taken Leather Wallet Case for iPhone 6 (4.7")
Taken Leather Wallet Case for Samsung Galaxy S6
Taken Leather Wallet Case is a perfect fit for Samsung Galaxy S6. Leave the wallet at home and pick up a new Wallet Case today!
Buy from Amazon.com