If you want a no-frills fabric slim wallet that holds a little of every thing, you may want to give the Maxpedition Gear Micro Wallet a try. This minimalist wallet is made from waterproof and super tough light-weight ballistic nylon fabric. The fabric is also coated wth Teflon for grime resistance and easy maintenance. This makes the Maxpedition Gear Micro Wallet for those who spend a lot of time outdoors and need a wallet that can match their rough and tumble lifestyle.
Inside the Maxpedition Gear Micro Wallet is an ID slot with a translucent vinyl widow. On the opposite side are 2 card slots which is perfect for storing a few cards, some bills, a spare key plus two quarters. On the outer side, there is an additional slip compartment for keeping you most often used cards so that they can be easily accessed. In the video below, the reviewer stuffed in 6 cards and the profile is still rather slim.
This slim wallet doesn't hold a whole lot but it will hold all your essentials, perfect for those who appreciate the minimalist lifestyle. This has lead to many to refer to the Gear Micro Wallet as the "bikini" wallet.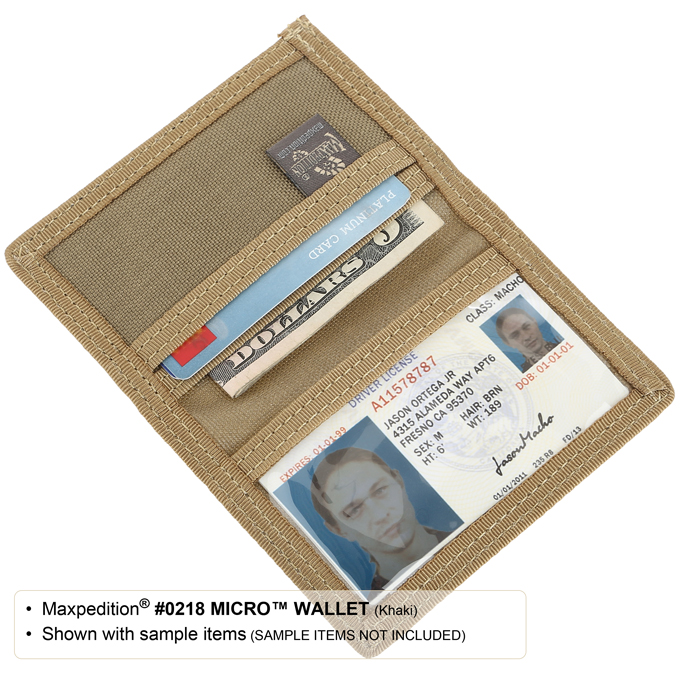 For durability, the Maxpedition Gear Micro Wallet is sewn together using high tensile strength composite nylon thread which is much stronger than standard nylon thread. Critical seams are double stitched, Bartacked or "Box-and-X" stitched for extra strength.
Where to Buy Maxpedition Gear Micro Wallet