Money clips are a popular feature in minimalist wallets because they generally take up much less space than a money slot. There are many money clip designs but when it comes to practicality, we really like the classic money clip used in many bi-fold slim wallets. That is why, the Alpine Swiss Deluxe Front Pocket Wallet which features such a money clip is a favorite among us. That plus a few other great features. And also an unbeatable price.
The money clip in the Alpine Swiss Deluxe Front Pocket Wallet not only cuts down the bulk but its design allows for easy ruffling through your bank notes to pick the notes that you want without removing all of them from the clip. It also allows you to slip in notes in between other notes and organize them, again without removing any notes from the clip. If you need to carry and handle cash frequently, we highly recommend using a wallet with this clip design.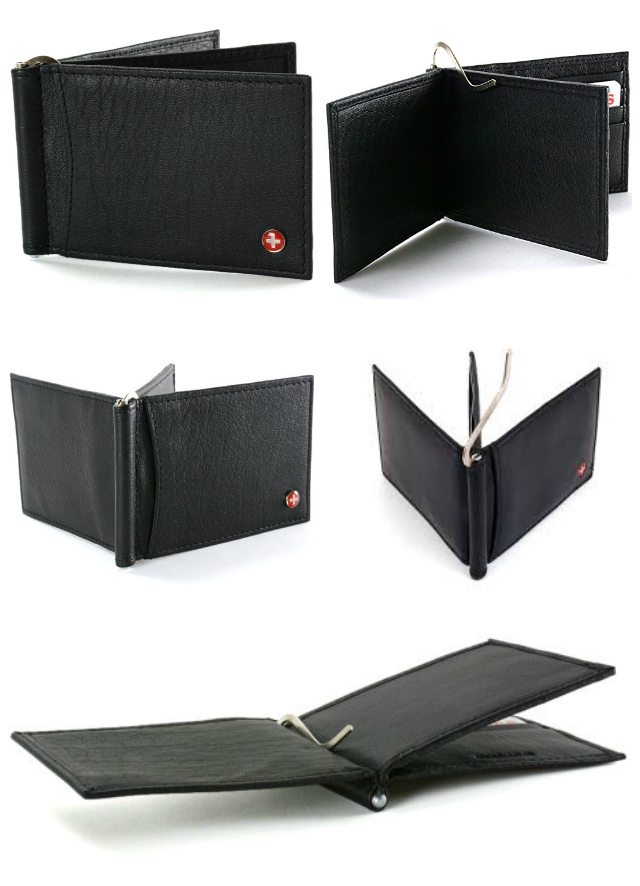 The Alpine Swiss Deluxe Front Pocket Wallet is also a great deterrent to identity theft as it has built-in RFID protection. RFID makes it easy for merchants to read info from your credit or debit cards but it also makes it equally easy for anyone walking or standing near you to steal the same data using a scanner. RFID blocking prevents this from happening by blocking the wireless signals from the RFID chip. It features a unique military grade shielding technology and proprietary blocking material to prevent electronic pickpocketing.
The Alpine Swiss Deluxe Front Pocket Wallet is made from genuine lambskin leather. Measuring 4 3/8" x 3" x 1/2′, it has room for 11 of your favorite cards and another one on the outside for easy access, perfect for your most often used card. The card storage section is separated from the money clip section which keeps everything well organized.
Last but not least, is the Alpine Swiss Deluxe Front Pocket Wallet's incredibly low price of just over $10. At this price point, you just can't go wrong.
Where to Buy Alpine Swiss Deluxe Front Pocket Wallet