We previously reviewed the Allett Classic Leather Original Wallet some time ago. This is the only wallet that we have ever reviewed that holds up to 24 cards (plus a few more if you wish) while still retaining an impossibly thin profile. The secret of this sorcery is Allett's patented side-by-side storage design which halved the total thickness to slightly more than 12 cards thick. The Allett EcoThin Original Wallet uses the same design as the leather wallet but substitutes the leather with tough but thin eco-friendly plastic made from recycled plastic bottles to give you an even thinner wallet.
Like the leather version, the Allett EcoThin Original Wallet has the same 4 card pocket design with each card slot designed to hold up to 6 cards for a total of 24 cards. The wallet measures 5″ x 3 3/4″ which is roughly the size of 2 credit cards placed side-by-side. This is larger than most minimalist wallet designs but it is a small compromise if you wish to carry 2 dozen or more cards plus some cash without breaking your back (pocket).
There is another notable difference between the Allett EcoThin Original Wallet and the leather version. The leather adds to the wallet thickness but it is also slightly elastic which lets it hold on to the cards more securely. The synthetic material on the other hand is super thin and light but lacks that elastic property compared to the leather wallet. On the other hand, the Ecothin material is water resistant unlike the leather wallet.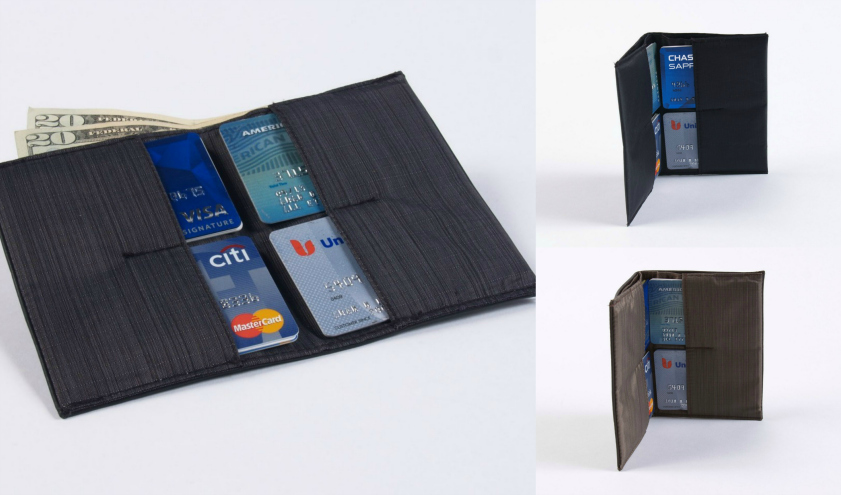 As a result, it doesn't hold on as well when you have only 1 or 2 cards in the card slot and the cards tend to slide out easily. One way around this problem is to fill up the card slots one by one. So if you have 8 cards, it is better to fill up 2 pockets with 4 cards each rather than to have 2 cards in all 4 pockets.
The Allett EcoThin Original Wallet does have its limitations but if you cannot do away with your poor "fat wallet" habits, it is worth considering.
Where to Buy Allett EcoThin Original Wallet